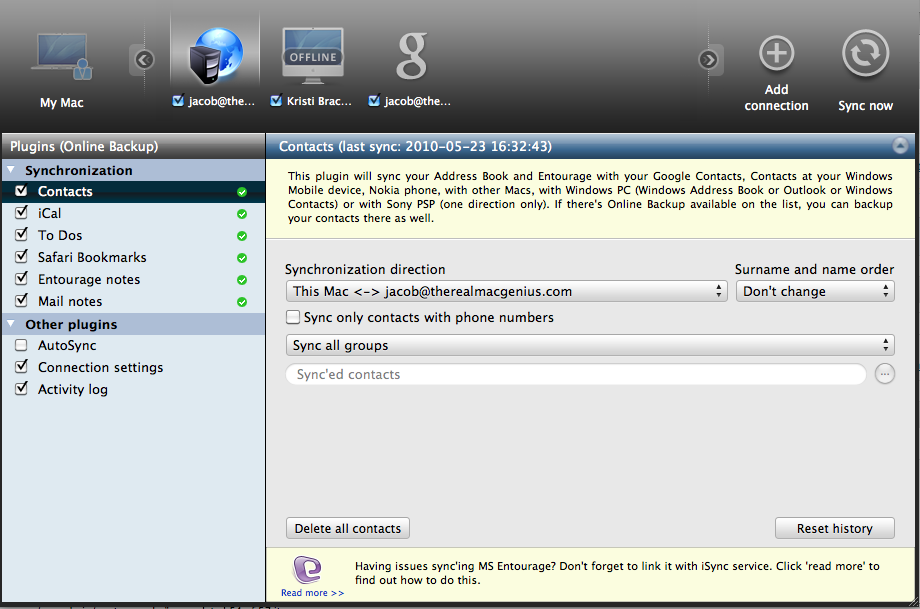 If you're like me and have multiple computers in your house, or a windows mobile phone not compatible with isync and want an easy way to sync all of your friend's addresses and contact data in sync with your computers, then I have an easy, free solution for you. It's called SyncMate by Eltima Software (http://mac.eltima.com/sync-mac.html), and it not only syncs Mac and Windows computers together; it syncs your Window's Mobile Phone, your gmail account, series 40 Nokia Phones, a USB Flash Drive, or even your PSP! The free version of SyncMate allows you to sync iCal and Contacts to all of the devices listed above, but the Expert Edition allows much more to be synced, including an Autosync option (see the picture below for what you can sync for each device).
SyncMate allowed my Mac to sync its music and contacts to my Windows and my other Mac, all of my contacts to my gmail account, and, to top it all off, I backed up all my computers to the 200 MB (50 MB in the free version) of online backup provided. It puts almost every device you would need to sync, and allows you to sync them using one app, all in one place.
SyncMate does most of what The Missing Sync does, but for 1 price, all in one place, along with the unlimited online storage. Download the free version today, and if you like it, the Expert Edition is worth the $40 compared to its competitors.